Potential Dropped Kerb Improvements in

Penderyn



Recently Richard was out and about with Simon Pritchard from RCT Highways looking at dropped kerbs in the villages of Penderyn and Hirwaun.  Richard and Simon also met with Cllr Graham Thomas and Lynley Gregory a resident of Penderyn.
Lynley raised concerns about the angle of the dropped kerb on Church Road in Penderyn, these concerns were passed on to the local PCSO who raised them with Accessible News in our April Empower Surgery.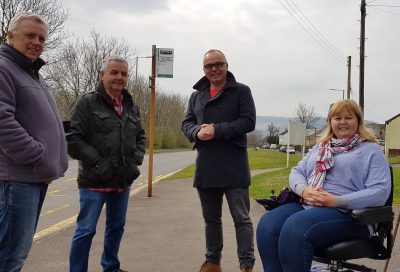 Founder Richard Jones has the following to say:
While I can see that Rhondda Cynon Taff engineers have tried to make the dropped kerb as accessible as possible it is still not ideal.  It was good to meet with Lynley, Simon and Cllr Thomas today to look at potential solutions.  I have full trust in Simon and know that a resolution will be found to make life easier for people with disabilities in Penderyn.
After visiting the dropped kerb Simon acknowledged that there was little that could be done to improve the current dropped kerb.  This was because of the gradient of the adjoining road and the topography of the valleys; however, it appears an additional dropped kerb can be installed to make crossing for some wheelchair users easier.
Lynley, a new resident of Penderyn is also a blogger and writes TopLadyTalks

.  Lynley made the following comment:
The meeting was very positive and it was good to meet Cllr Thomas and Simon from RCT Highways. It was encouraging to hear that they were keen to help improve the area for all, both disabled and non-disabled residents. I look forward to seeing their proposed improvements.
Keep a check as we will keep you updated of developments.  If you live in South Wales and have concerns regarding dropped kerbs, or other access issues you can either email us

or contact us on Facebook

or Twitter

.