Accessible Transport for an Inclusive Community Campaign:
This page contains all the latest information on our Accessible Transport for an Inclusive Community Campaign, remember to check our social media to find out more. This campaign is run along side Rhondda Cynon Taff Citizens Advice Bureau

.  After a meeting with the Equality and Human Rights Commission

, Richard spoke to Ashley Comley (Chief Executive) of the bureau who said their clients were experiencing difficulties accessing their services because of transport difficulties, so a partnership was developed.
This campaign is especially aimed at the lack of accessible transport provision in Rhondda Cynon Taff, however, we are aware that this is a problem throughout South Wales.  If you are having problems get in touch with us, we're looking for stories and information – we are going to be compiling a questionnaire which will be available online and through various outlets in the near future.  All the information provided to us will be treated with the strictest confidence.
We feel that accessible transport will create an inclusive community and aim to empower all.
Help us make an accessible Wales for all!
#accessibletransportforall
---
Meet the Coordinator: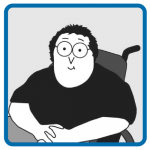 This campaign is being cordinated by Accessible News founder Richard Jones, a disability rights camapinger campaigner based in Rhondda Cynon Taff.  Richard's got nineteen years experiencing in campaigning for the rights of people with disabilities within the local authority and surrounding areas. Richard's successful campaigns include imrpoving access to the town centre, removing the cobbles and also improving access to education for people with disabilities in Rhondda Cynon Taff.
Richard's role will be to oversee the campaign and coordinate its activities. He will liaise with the Citizens Advice Bureau and driving the campaign forward, the campaign will be based on social media, as well as getting out into the community to speak to local residents.  Richard feels the following about transport in Rhondda Cynon Taff:
As a wheelchair user I have first hand experience on the difficulties in getting accessible transport on a day-to-day basis.  We have been approached by numerous residents who are experiencing difficulties in getting out of their house out and about in their community.  Accessible transport can empower people to lead a life enriched with fullfillment.

My team and I want to help people with disabilities combat this problem, we will also be working with local authorities to help them improve their transport provision.
---