Celebrity Profile – Neil Young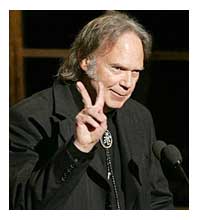 Born: 1945
Profession: Actor
Significant Work: Member of Buffalo Springfield whose hits include 'For What It's Worth', gained success with Crosby, Still, Nash and Young with hits such as 'Ohio' and solo success with songs including 'Cinnamon Girl', 'Down by the River' and 'Heart of Gold'.
Disability: Diabetes, Polio, Epilepsy and a Brain Aneurysm
Neil was diagnosed with Diabetes as a child and at the age of six he suffered from a case of Polio that resulted in the left side of his body being slightly weaker than his right and he still walks with a limp today. The song 'Helpless' was written by Neil describing his experience with Polio. In his 20s Neil began to have epileptic seizures, one seizure even happened on stage. Then in 2005 Neil was diagnosed with a brain aneurysm and had to have emergency surgery to implant tiny platinum coils in his brain.
In an interview with Parade.com Neil explains that "the aneurysm, polio, epilepsy—all those things are just part of the landscape. Everybody's life is hard, you look at life, and it's not a cakewalk. Things happen, and you've got to be able to bounce back."
Neil is married with three children. Zeke, 33, Neil's eldest son had Cerebral Palsy and Ben, 27, is Quadriplegic and mostly nonverbal. Neil and his wife Pegi opened the Bridge School in Hillsborough, Calif., for students with severe physical and speech impairments and annual fund-raising concerts have included headliners like Dave Matthews Band, Pearl Jam and Paul McCartney.