Dropped Kerbs: The Facts
There are three main types of dropped kerbs, as demonstrated in the images below.
It is illegal to obstruct any of these dropped kerbs.

Doing so could result in a £70 fine.

It is up to the local authorities to issue these fines.

Since 2008, you can be fined for parking in front of a dropped kerb even if there are no signs marking it out as a designated dropped kerb (e.g. a white 'H bar' marking or double yellow lines).
Example 1: Accessible dropped kerbs
When correctly installed, these dropped kerbs can form part of a cohesive crossing system. They usually come in pairs at opposite sides of the road. When accompanied by tactile flooring, they offer people with disabilities safe opportunities to cross
Example 2: Everyday Access dropped kerbs
These can often be found on entries to garages, driveways or walkways and allow people with disabilities, parents with pushchairs and the elderly easy access to buildings.
Example 3: Personal dropped kerbs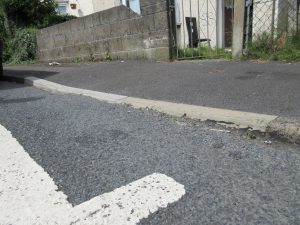 These dropped kerbs are installed by local authorities for residents who have specific access needs and allow them easy access to their own property. They sometimes have tactile flooring and are often marked with a white 'H-bar' marking.
For more information, visit:
http://www.rctcbc.gov.uk/EN/Resident/ParkingRoadsandTravel/Parking/relateddocuments/civilparkingenforcementguidancebooklet.pdf
All information accurate as of November 2016, in Rhondda Cynon Taff. Legal requirements and fines may be subject to change and vary depending on the local authority. Please visit your local civil parking enforcement website for more information.