A Considerate Christmas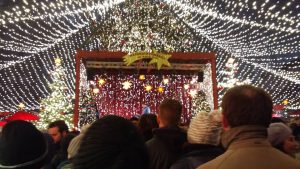 'Tis the season to be jolly! And if there's one thing you can be sure of, it's that town centres will be bustling with eager shoppers. Whether you're about to embark on one big shopping spree or simply popping into B&Ms for some last minute stocking-fillers, you'll probably be needing somewhere to park, right?
This Christmas, as you pull up full of festive cheer – or scrooge-like dread – please take a minute in your hectic schedule to think about where you're parking your car. We know the car parks are bound to be full to the brim and you may have to park on a crowded street. If so, please avoid parking in front of a dropped kerb. It may only be for a minute or two but it can cause much inconvenience and puts lives in danger.
Dropped kerbs allow easy access to pavements for those with disabilities, as well as parents with pushchairs and the elderly. This, in turn, allows people to get into shops, cafes, restaurants, workplaces and even their own homes. If these dropped kerbs are obstructed, pedestrians are forced to travel along long stretches of road before coming to the next dropped kerb, putting their lives in danger.
This Christmas, please park considerately: think twice before you park in front of a dropped kerb.
Help us make an accessible Wales for all.
#considerateparking