Celebrity Profile – Sir Steve Redgrave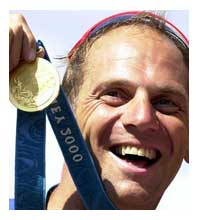 Born: 1962
Significant Work: Won five consecutive gold Olympic medals from 1984 to 2000, three gold medals at the Commonwealth Games and nine gold medals at the World Rowing Championships.
Disability: Dyslexia, Colitis and Diabetes
Steve Redgrave found school hard due to his Dyslexia however, he excelled at sport and competed at a reasonably high level at an early age.
Just over eleven years ago, Steve was diagnosed with Diabetes. In an interview with Male Health Steve said "I thought that my rowing career was over at that point. I knew a little bit about diabetes – my granddad had it in his 70s – and the little bit I knew made me think it was finished. But I was put under a young forward-thinking consultant. He put me on insulin, changed my eating regime and then said: 'I don't see why you can't achieve whatever you want to achieve'. He said it would be difficult – and he was right about that – but his enthusiasm helped a lot."
How his Diabetes didn't stop in and in 2000 Steve went on to win his fifth consecutive gold medal at the Sidney Olympics.Now Steve is a very popular after dinner and motivational speaker, he has created his own charity the Steve Redgrave Fund and is a patron of CEDAR (Centre for Endocrinology Diabetes and Research) and CRY (Cardiac Risk in the Young).