Celebrity Profile – Sammi Kinghorn
How to Overcome Challenges to Achieve your Goals
Year of Birth: 1996
Significant Work: Scottish Sportsperson of the Year 2017, Double World Champion 100m & 200m Wheelchair Racer and 3 finals at the 2016 Rio Olympics.
Despite competing in Rio 2016, breaking the world record for the 200m sprint, and becoming World Champion for both the 100m and 200m sprints, Sammi Kinghorn is no stranger to overcoming obstacles in her life. As with most athletes, she works tirelessly to set, achieve and beat her goals and has shared her tips on how to overcome obstacles and achieve your goals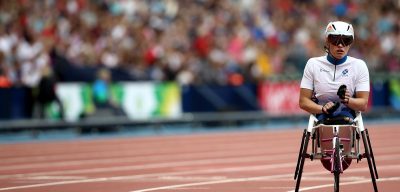 1. Do your research
If a major competition is coming up I find out what I need to do to get there and plan to achieve it.
When thinking about your goals and what you want to achieve, whether it's achieving a PB or getting that next promotion, think about the steps you need to take in order to achieve this and pre-empt any potential obstacles or hurdles that might get in the way so there are no surprises.
2. Break down your goals
My coach and I set performance targets annually and review them at the end of the year, but I also set targets for myself on a daily, weekly and yearly basis which helps me keep focused. Break down the ultimate goal into smaller goals and then break those down further into actions that can be adopted into your daily life.
3. See obstacles as a challenge
I perceive obstacles as simply challenges to be met head-on and overcome and I've always relished a challenge. Acceptance of these as challenges makes the thought of them far less scary as you're already prepared for them.
4. Stay mentally strong
During moments when I feel low and exhausted, I tell myself that all my competitors are also training that day so I need to motivate myself to continue. It can be hard to mentally motivate yourself but breaking down your goals into smaller tasks will help them seem less overwhelming.
5. Lean on your support
I'm lucky that I'm surrounded by a lot of very supportive people who have been there for me during the highs and lows of my career. Don't be afraid to lean on people when things get tough, but also to help celebrate achievements to help motivate you to continue to work towards your goals. Everybody faces challenges at some point in their life and talking through these with people can often help them seem less overwhelming.