Is this parking considerate?
As you know last year we launched our Considerate Parking Campaign to look at inappropriate parking on drop kerbs and other access points.
When walking back from our office yesterday we noticed this on Depot Road in Aberdare where the Little Theatre used to be. Parking like this prevents access for people with disabilities, the elderly and those with prams and pushchairs.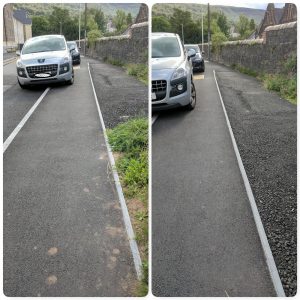 Do you see this regularly, if you have photographs send them to us and we'll pass them on to the relevant authority. It's time to stamp out this kind of discrimination.
Parking considerately isn't just about not parking on drop kerbs, it's about not obstructing pavements or bloacking access to drives.
We will pass this on to both South Wales Police and RCT Parking Services for them to deal with this.
Remember to keep checking up on the progress of our campaign in the future.
Please park considerately: think twice before parking in front of a dropped kerb.
Help us make an Accessible Wales for all!
#considerateparking